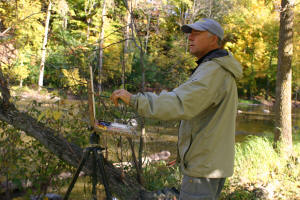 Gary Young is a native Texan, born in Houston, and he currently resides in Brentwood, Tennessee. As an artist, he was a bit of a late starter and even though Gary began to draw as a young boy, his first oil painting was not completed until after his 50th birthday. Gary's early creative efforts included designing and building Windsor chairs. However, a trip to Italy changed the course of his artistic journey when he observed artists painting in the streets of Florence. Since then, he has dedicated his time and energy to painting with oils.
Mr. Young believes that we are in a second renaissance of American Impressionism, and that working "in situ,", or from life, is an essential aspect of one's development. He has said, "It is not what we see, but rather, what we feel and how our emotions are conveyed that makes a work of art interesting."
He has been fortunate to have had the selfless assistance of several artists - from Dawn Whitelaw, Roger Dale Brown, and Jason Saunders in Tennessee to Scott Christensen, Kevin MacPherson, Carolyn Anderson, Todd Reifers and C.W. Mundy nationally.
Young is a member of the American Impressionist Society, Inc. and an active participant in the Chestnut Group, a group of artists dedicated to preserving historic locales and aesthetically significant places in Tennessee. His works are exhibited in local and regional shows, and juried competitions.
Gary works out of his studio located in Brentwood, Tennessee. You can contact him directly at gary@garyyoungstudio.com or 615-202-6373.
ARTICLES
May 9, 2014 The Tennessean article by Kristie Barnett: "A home that Brims with creativity. Click here to see article.
EDUCATION
1969 - 1973 BBA in Marketing, Southwest Texas State University, TX
SELECTED EXHIBITIONS
2015 American Impressionist Society National Juried Exhibition, Scottsdale, AZ
2013 Cumberland Society of Painters National Juried Exhibition, Nashville, TN
2012 Central South Art National Juried Exhibition, Nashville, TN
2011 Fine Art in Brentwood, Brentwood Academy, Brentwood, TN and 2010
2011 River Gallery, "Reflections", three person show, Chattanooga, TN
2011 "Green Show", Marnie Sheridan Gallery, Nashville, TN
2010 American Impressionist Society National Juried Exhibition, Nashville, TN
2010 The Art Event at Lipscomb, Lipscomb Campus School, Nashville, Tennessee
2009 Chestnut Group Art Show/Land Trust of TN, Glen Ellen Estate, Nashville, TN
2008 The Art Event at Lipscomb, Lipscomb Campus School, Nashville, Tennessee and 2009
2007 Chestnut Group Art Show/Radnor Lake, Nashville, Tennessee
2007 Gordon Jewish Community Center, solo exhibit, Nashville, Tennessee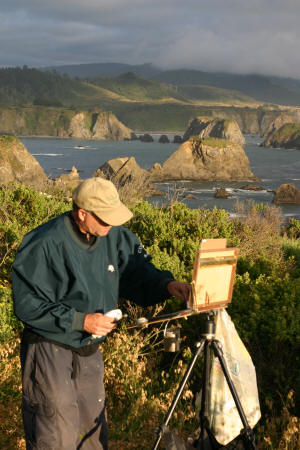 AWARDS
2010 Merit Award, American Impressionist Society National Juried Exhibition, Nashville, TN
2009 Second Place for Landscape, Pennyroyal Juried Exhibition, Hopkinsville Art Guild, Hopkinsville, KY
2008 Honorable Mention Award for Landscape, Pennyroyal Juried Exhibition, Hopkinsville Art Guild, Hopkinsville, KY
2008 Outstanding Impressionistic Work Award, Madison Art Club, Madison, IN
2008 Memorial Award, Central South National Juried Exhibition, Nashville, TN